Managing CO2 flow rate satisfactorily is particularly difficult for smaller aquariums; it's very easy to have the CO2 come blasting out, but a nice steady well-controlled bubbling takes some work. The usual combination of regulator and needle valve can work, and adding in a secondary flow restrictor between the two can be a big help.
Mott porous metal flow restrictors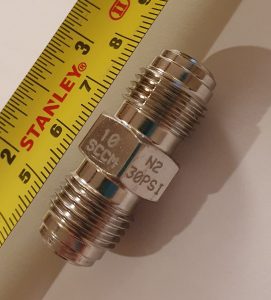 Plastic flow restrictors that work "well enough" can be had for as little as £5, but I've always been enamoured of the porous metal flow restrictors from Mott corporation. A metal disc has hundreds of microchannels fabricated into it such that the gas has to squeeze through to the other side. By controlling the size and number of the channels and the shape of the disc, any desired flow rate can be achieved for a defined gas supplied at a defined pressure. I managed to score the pictured one from Ebay.
Fireplace Aquarium Mott flow restrictor
Mott calibrates the flow rate against nitrogen gas with an input pressure of 30 PSI which is a typical regulated gas output working pressure. The one I got is calibrated to 10 SCCM (standard cubic centimetres per minute) which is to say, 10 ml. CO2 is less viscous than nitrogen, so this restrictor outputs a flow of 12 ml / minute CO2. I find that for the 8 hours per day the CO2 is flowing through the aquarium (controlled by a solenoid on a timer) I need a flow rate of 6 ml / minute CO2, or maybe slightly less, so this is the perfect flow restrictor for this set-up. Given an input flow rate of 12 ml / minute CO2 the needle valve has no trouble at all comfortably getting the flow rate down by the remaining 50% needed. With the new restrictor in place adjusting the needle value smoothly moves the flow rate up and down, with none of the twitchiness exhibited with much higher input flow rates.